We provide timely and affordable garage door repair in Beaufort, SC.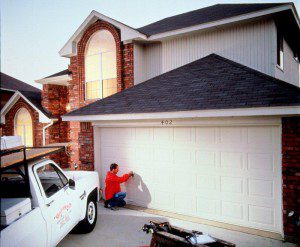 Garage Door Repair in Beaufort – Typical residential garage doors are cycled at least twice a day and often as many as four to six times. You raise and lower the door in the morning to leave for work and then again upon returning home. If you have another driver and vehicle in your family, that is doubled. Then, add on the times you cycle it to access items in the garage, such as taking out the trash or getting the lawn equipment out. It stands to reason that with all that work, eventually you may find yourself needing garage door repair for your Beaufort, SC home.
At Overhead Door Company of Charleston, we excel at everything to do with garage doors. We provide timely and affordable garage door repair as needed, but we also offer preventative maintenance programs, so you can always have the peace of mind that your garage door is operating efficiently, safely and securely.
Your garage doors are more than just a way to get your car and other items in and out of your garage. It is also an access point to your home – one that burglars love to focus on because many garage doors are not very secure and present the easiest way into your home and a fast way to steal your cherished belongings. Let us take a look at your garage doors and offer suggestions for making them as secure as possible.
Regular inspections and garage door repair are vital to keeping you, your family and your vehicle safe. The weight of a garage door is upwards of 150 pounds, depending on the material, which can cause serious injury to people and pets and severe damage to your vehicle if it falls. Give us a call, and we'll inspect your garage doors, complete any garage door repair that is needed, and get you set up on a preventative maintenance schedule. Trust the original overhead door company with genuine products and expert garage door repair technicians!
At the Overhead Door Company of Charleston, we provide only the highest quality garage door repair for our clients in Charleston, Beaufort, Mount Pleasant, Summerville, Walterboro, Hilton Head, Bluffton and the surrounding areas of South Carolina!