Don't lose out on business because your automatic door isn't working! We offer automatic door repair to businesses in Bluffton, SC and surrounding areas.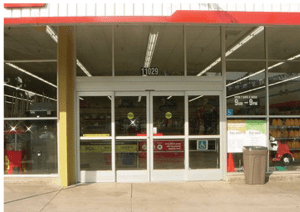 Automatic Door Repair in Bluffton– When you need automatic door repair, who do you call? If your answer wasn't Overhead Door Company of Charleston, we want to change your mind. Since 2001, we have been serving commercial and residential locations throughout Bluffton, South Carolina with a variety of garage door services.
However, while our experience is one reason why you should call us for automatic door repair, we are also:
An accredited business recognized by the Better Business Bureau
Recognized on Angie's List for our services
Recommended by our current and previous customers on a daily basis
When you need automatic door repair, you can expect us to arrive at your business shortly after you make a request for repair. Not only will we arrive at your location quickly, but we will also get the repair done in record time, so you can get back to your regular schedule. Our promptness and excellent service is what sets us apart from our competitors and allows us to continue to grow as a company.
While our reliability, experience, and professionalism are all reasons to work with us at Overhead Door Company of Charleston, we realize that you won't bother hiring a garage door company that can't actually fix the problem with your automatic door. Our qualified technicians are capable of fixing swinging and sliding entries, revolving doors, handicap accessible doors, and any other type of automatic door you use at your business' location.
The next time you need automatic door repair, make us at Overhead Door of Company of Charleston your first choice.
At the Overhead Door Company of Charleston, we provide only the highest quality automatic door repair for our clients in Charleston, Beaufort, Mt. Pleasant, Summerville, Walterboro, Hilton Head, Bluffton and the surrounding areas of South Carolina!