Residential garage flood vents can keep your garage from flooding during periods of heavy rainfall in Summerville, SC.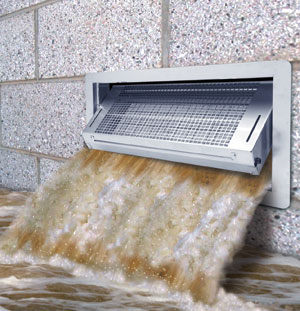 Residential Garage Flood Vents in Summerville – For most people, their home is one of their biggest assets. Even if you go to great lengths to protect your home, you might not be doing enough. Here in South Carolina, our homes are exposed to weather that may end up being harmful. Because our state gets so much moisture from large amounts of rain and melting snow, it's no surprise that we can be vulnerable to floods. Even if you don't live in a flood zone, your home could still suffer water damage from a broken sprinkler pipe or carelessly placed hose. The solution to all these problems is actually fairly simple- install residential garage flood vents!
Here at Overhead Door Company of Charleston, we want to invite you to look down in order to protect your home — to the floor of your garage, that is! Residential garage flood vents are small vents placed in the exterior walls near the ground of your garage that will enable water to escape in times of flooding. These vents are designed to open on their own when water reaches a certain height. This means that even if you're out of town during a very heavy rainfall, your vents will still work without you there.
Without residential garage flood vents in your Summerville, South Carolina home, you open your home up to all kinds of damages caused by water. Foundation and structural issues, water damage, mold, and mildew can all occur relatively quickly. Protect your home today by calling us for more information about residential garage flood vents.
At the Overhead Door Company of Charleston, we provide only the highest quality residential garage flood vents for our clients in Charleston, Hilton Head, Beaufort, Mount Pleasant, Summerville, Walterboro and the surrounding areas of South Carolina!