We hope you will consider residential garage flood vents to better protect your property in Mount Pleasant, SC.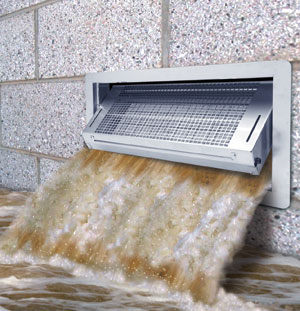 Residential Garage Flood Vents in Mount Pleasant – While we always want to hope for the best, planning for the worst is the best advice we can give Mount Pleasant, South Carolina homeowners. This includes making sure your home is protected against the threat of flooding. Though major flooding is rare, it can and does happen in our area. If you are considering adding a garage to your home or installing a new garage door, we hope you will consider residential garage flood vents to better protect your property – just in case the worst really does happen.
Not only do residential garage flood vents offer 200 square feet of protection per vent, but they can also save you money on your homeowner's NFIP (National Flood Insurance Program) premiums. Each vent offers additional peace of mind and savings. Plus, installing residential garage door vents may allow you to have fewer vents inside of your home.
Some residential garage flood vents are automatic and insulated, allowing fresh air into your garage and keeping internal temperatures reasonable. Automatic, insulated flood vents open when the weather is warmer, allowing cool air to enter the garage. When the weather is a bit colder, the vents remain closed, effectively insulating your garage from the cold.
If you own a home in the Mount Pleasant area and you would like to learn more about the many benefits of choosing residential garage flood vents, contact us today. We can help you choose a new garage door with vents included or we can add important flood vents to your current door. Contact us at Overhead Door Company of Charleston today for more information.
At the Overhead Door Company of Charleston, we provide only the highest quality residential garage flood vents for our clients in Charleston, Hilton Head, Beaufort, Mount Pleasant, Summerville, Walterboro and the surrounding areas of South Carolina!