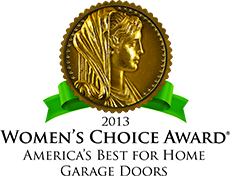 In 2013, WomenCertified® presented its America's Best for Home Award in the garage door category to the Overhead Door Company for the 2nd consecutive year. This designation was based on a nationwide survey involving more than 5,000 women who were asked to name the brands they would recommend to others.
President and CEO of Overhead Door, Dennis Stone, said the award validates the company's commitment to its distributors and the collective ability to deliver high-performance products and professional service. "The Women's Choice Award represents the trust that women have in our brand," he said.
According to a study conducted in 2012, today's female consumers value the opinion of others, and most feel that it is important to help other women make smart purchases. As such, more brands are focusing on providing a customer experience that centers on the female shoppers. In terms of helping them make savvy purchases by knowing which brands are trusted and recommended by women, as well as those that deliver an exceptional customer experience, the Women's Choice Award has set the standard.
The Overhead Door Company continues to remain among the leading group of trusted brands. Delia Passai, author of Winning the Toughest Customer: The Essential Guide to Selling to Women and founder of WomenCertified®, says that the Women's Choice Award honors those brands that have showed outstanding service in meeting the needs of women, as well as brands that have received an exceptional recommendation rating by women.
To find out more about the Overhead Door Company, its products, and to find a distributor near you, visit www.overheaddoor.com.