Have you ever been worried about flooding in your area? If so, a good option is to get some garage door flood vents installed.
Each garage door flood vent provides 200 square feet of flood protection. Most garages are 600 square feet, so just three vents can protect your entire garage from flooding. There are two options for a garage door flood vent. The dual function model provides automatic flood protection and automatic ventilation. The insulated model opens when flood water rises and seals out warm or cool air. Both models can be easily installed into an existing garage door.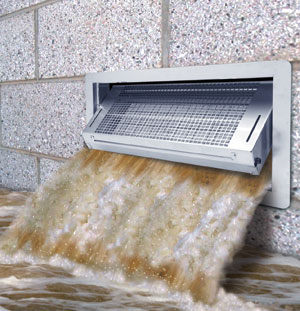 When flood water enters the internal floats in the vent, it automatically unlatches, allowing flood water to enter and exit through the frame opening. This relieves the pressure from the foundation walls of your home. The ventilation aspect of a garage door vent works through a bimetal coil opening and closing the ventilation louvers automatically as the temperature changes. When it is freezing outside it will be closed, and when it is warm, they will open.
Besides protecting against flood waters, there are additional benefits to having a garage door flood vent installed. It can save some money on homeowner's NFIP (National Flood Insurance Program) premiums. Another perk is that your home will require two-thirds fewer vents inside. It just also provides peace of mind if there are flood warnings in your area. Be sure to contact a professional if you are interested in having garage door flood vents installed.
For new garage doors in Charleston SC, contact us at Overhead Door Company of Charleston. We offer high-quality garage door products and services, and are proud members of both the Better Business Bureau and the International Door Association. Give us a call today.