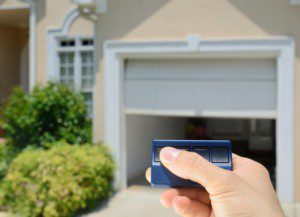 Homeowners don't generally give much thought to garage openers until something goes wrong with theirs. Garage openers can be lifesavers, and choosing the right one in the first place- whether it's for a replacement or for a new garage door- can make a world of difference. You are likely to only purchase one garage opener in the lifetime of your home ownership, so it is best to purchase one that is of a high quality and has reliable reviews from professional installers.
When it comes to purchasing a new garage opener, you may be overwhelmed by the many choices you have. There are generally three different types of garage openers: chain-driven, belt-driven, and screw-driven.
Chain-driven garage openers are the oldest style of garage opener. They are still very popular and of good value. These openers tend to be noisier and may be undesirable if the garage is beneath, or directly beside a relatively quiet living space, such as a bedroom. However, this said, some homeowners appreciate the warning that someone is coming or going out of the garage.
Belt-driven garage openers are basically the same idea as a chain-driven opener, except for instead of a chain, a rubber belt is used to operate the mechanism. This type of garage opener is definitely a popular choice because of its speed, and it runs a bit quieter than the chain-driven alternative. Belt-driven garage openers tend to cost a bit more than other garage openers.
Screw-driven garage openers are midway in cost. There aren't as many moving parts, and these units are usually low-maintenance.
Garage openers have various features, such as rolling code security features for added security. Garage openers can also feature lights, keyless entry pads, remote or wall controls, and battery back-up.
When it comes down to the nitty-gritty of choosing what features and function you want in your new garage door, contact us at Overhead Door Company of Charleston. We have been serving the Charleston area for 14 years and are proud members in good standing with the Better Business Bureau and the International Door Association. When you are thinking garage doors, turn to the leading provider in garage doors, garage openers and commercial garage doors and equipment. We have you covered.