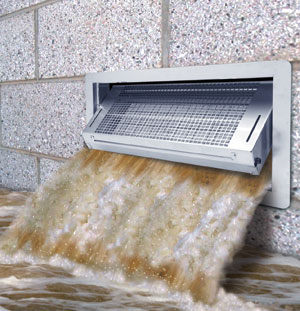 If you've ever experienced flooding near or in your home, you'll know just how frustrating and concerning this is. In some areas of South Carolina, floods are more common due to high volumes of snow and rain. To find out if your home is in a flood zone, you can utilize online resources. If it is, you may want to seriously consider installing garage flood vents.
At Overhead Door Company of Charleston, we can do the job, and then you can rest easy knowing that you are protected from sudden onslaughts of water caused by storms, or even a broken sprinkler or pipe.
When large amounts of water enter your home, the damage can be dreadful. Water can destroy ceilings, drywall, flooring and more. Moreover, mold can develop and cause allergic reactions as well as other health issues. Garage flood vents are an excellent solution to the problem because, when the sensor detects water, they open up and allow the water to flow outside – not under your walls and doors.
Also, in flood situations, if the water pressure outside and inside your home is not able to equalize quickly enough, the doors and windows could blow out. In addition, the pressure can make your home unsafe to live in because it may compromise the foundation. Studies have shown that homes without garage flood vents can literally collapse.
Serving both residential and commercial property owners, we take pride in our level of service, our products and our people. We can also perform a commercial fire drop test to ensure your door complies with NFPA standards.