Garage Door Specials, Charleston, SC
Our Garage Door Specials Can Save You Even More Money on Your Garage Door Project in Charleston, SC.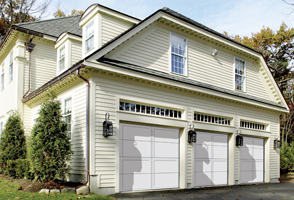 Garage Door Specials in Charleston – Not only are we committed to bringing you superior quality garage door products at affordable prices, but we are also dedicated to helping you save even more money with garage door specials! Check out our list of current garage door specials below, and feel free to contact us if you have any questions or would like to request a quote for any of our garage door services in Charleston, South Carolina .
STOCK DOORS SCRATCH AND DENT SPECIALS:

WOOD
1- 18X8 453 8 PANEL 4 SECTION
1- 10X9 444 LUAN
1- 9X7 CHDC MAHOGANY (NO GLASS, ARCHED TOP)
COURTYARD
1- 18X8 371A WITH STOCKBRIDGE GRIDS
1- 12X7 161T WITH STOCKBRIDGE GRIDS
1- 9X8 161M SOLID
2- 8X7 161T SOLID
2-9X7 371T WITH STOCKBRIDGE GRIDS
VINYL
1- 18X8 RAISED PANEL
1- 8X6'9 V-GROOVED PANEL
HAAS
2- 9X7 LONG RECESSED PANEL WITH STOCKTON 2 GRIDS
WAYNE DALTON
1- 8X7 FOAMCORE
CHI
1- 8X7 V-GROOVED WITH STOCKTON 2 GRIDS (ALMOND)
THERMACORE
2- 9X8 199 WITH GLASS
2- 9X8 195 WITH GLASS
2- 9X7 198 WITH STOCKTON 1 GRIDS (SANDSTONE)
2- 9X7 194 WITH STOCKTON 1 GRIDS
TRADITIONAL
1- 18X8 171 WITH GLASS
1- 10X8 175 (BROWN)
1- 10X8 171 WITH GLASS (SANDSTONE)
2- 9X7 171 WITH STOCKTON 2 GRIDS
2- 9X7 170 (ALMOND)
2- 8X6'9" 170
1- 8X8 172
For pricing and details, please call us at (843) 767-0028 or just fill out the form to send an inquiry.
At the Overhead Door Company of Charleston, we amazing garage door specials for our clients in Charleston, Hilton Head, Beaufort, Mount Pleasant, Summerville, Bluffton, Walterboro and the surrounding areas of South Carolina!