Contact Us Today for Automatic Door Service & Repair in Charleston, SC.
Automatic Door Service in Charleston – Have you ever walked up to a retail store or office building with your arms full, only to discover the door didn't open automatically? What a pain! Having properly functioning automatic doors is crucial to making sure your employees, as well as customers and other guests, have a positive experience when they visit your business. So if your automatic doors aren't working right or if they haven't had a maintenance check in a long time, you should contact us at Overhead Door Company of Charleston for automatic door service & repair.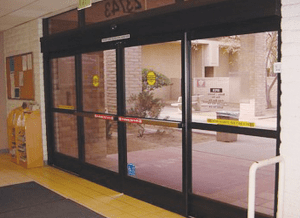 Automatic doors, also known as automatic entry doors or commercial sliding doors, have a motion detector that causes the door to slide open automatically when it senses someone walking up to the door. The door then automatically closes again after the person has passed through to the other side. There are also automatic doors, primarily created for handicapped people, that open with the push of a button.
Because automatic doors have so many complex moving parts, it is quite common for them to malfunction. Perhaps the sensor only works from one side of the door, the sensor isn't sensitive enough and won't open for children, or maybe something is wrong with the tracks and rollers or the connection between the handicap button and the door, causing the door to not open and close properly. Our automatic door service experts can diagnose and fix any problem with automatic doors quickly and efficiently.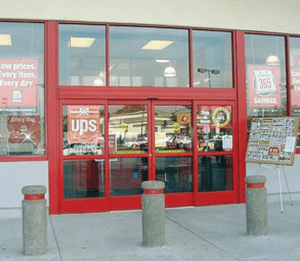 Automatic doors have many advantages, including:
Convenience- As previously stated, you will greatly appreciate having an automatic door when you are trying to get in or out with your arms full.
Accessibility- Automatic doors make your business accessible to people who have injuries or disabilities and are either unable to open a door on their own, or it is very difficult to do so because they are on crutches or in a wheelchair.
Traffic Flow– Groups of people can walk through an automatic door much faster than a standard door, keeping the traffic flowing nicely without risking a door slamming on someone's fingers or hitting them in the face.
Energy Savings– If your business has a standard door, you probably get sick of opening and closing it dozens of times a day, so you just prop it open. However, that leads to all the air from your air conditioner or heater going straight out the door, causing your energy bill to spike.
Hygiene– Dozens or even hundreds of people touching a door handle each day can easily spread germs like wildfire. Most automatic doors don't have to be touched at all, reducing the potential for lots of sick employees and customers. Also, if you prop the door open in lieu of an automatic door, your store or office will likely get dirty much faster and invite lots of unwanted insects inside.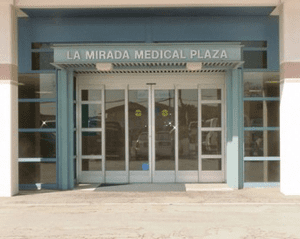 If you are having problems with your automatic doors, contact us at Overhead Door Company of Charleston. We are A.A.A.D.M. certified and offer high-quality automatic door products from Besam, Horton, and Stanley. Our automatic door service experts can fix any problem in a flash!
At the Overhead Door Company of Charleston, we provide only the highest quality automatic door service for our clients in Charleston, Beaufort, Mount Pleasant, Summerville, Walterboro, Hilton Head, Bluffton and the surrounding areas of South Carolina!
Similar Services we Offer: